ADB Study Quantifies How Cross-Border Power Trading can Benefit South Asia
22 September 2015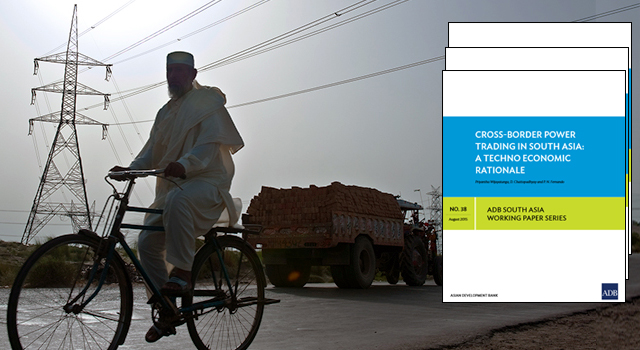 An Asian Development Bank (ADB) study has measured the economic and reliability benefits of cross-border electricity trading for countries in South Asia, including Afghanistan, Bangladesh, Bhutan, India, Nepal, Pakistan, and Sri Lanka. Findings reveal that power trading in South Asia can help serve the region's growing demand for energy while saving participating countries billions of dollars.
The study also recommends a market-driven process for cross-border power trading implemented with a regulatory framework across the region, arguing that a strong platform for cross-border power trading—instead of bilateral trading—would enable the region to reap the full economic, reliability and environmental benefits of cross-border power projects.
Building on the South Asia Association of Regional Cooperation (SAARC) Regional Energy Trade Study (SRETS), the new study examines the costs and benefits of 6 cross-border electricity transmission interconnections: (i) Bhutan-India additional grid reinforcement, (ii) India-Nepal 400 kilovolt transmission link currently under construction, (iii) India-Sri Lanka proposed high voltage direct current transmission link, (iv) Bangladesh-India high voltage director current transmission link, (v) India-Pakistan 220 kilovolt and 400 kilovolt transmission link, and (vi) India-Pakistan 400 kilovolt transmission link coupled with CASA 1000 transmission link.
With data compiled in 2013, the study focuses on the benefits of interconnection projects using the 2016-2017 implementation scenario. Results show that countries involved in trading stand to benefit from the formation of a more reliable interconnected power system, and gain access to clean and economic electricity generation. Total benefit for the whole region would amount to $3.86-$4.13 billion, with projects estimated to cost around $229- $243 million annually.
Outcomes include:
Benefit from avoided operating cost calculated at around $350 million per year, through the $140-$160 million Bhutan-India Power Transmission Reinforcement project, which would facilitate generation expansion totaling an additional hydropower output of 15,193 GWh from Bhutan. The project would also be instrumental in minimizing the risk of a severe electricity shortage in India, and is calculated to reduce unserved energy in Bhutan costing around $1.5 billion per year.
A strong economic case for hydropower projects in Nepal. According to the study, planned capacity addition in Nepal would enable the country to meet its energy demands and even achieve surplus state, enabling it to export energy to India. Pipeline hydro projects could exceed 2,500 MW by 2016-2017, in contrast to projected peak demand of 1,640 MW. The study cautions that if 650 MW, or 1/3 of the planned capacity, is not implemented by 2016-2017, Nepal would continue to face a risk of frequent power shortages.
Robust business case for the India-Sri Lanka Submarine Link, with benefits in 2016-2017 estimated to average $186 million for the year. The study reports annualized cost of the link in the range of $50 million.
Benefit of the Bangladesh-India HVDC Link, under two broad demand-supply scenarios—surplus state and tight demand-supply balance—will exceed the cost.
Aside from benefits in reliability or unserved energy, these cross-border power trading projects will also contribute to containing emissions of greenhouse gas and other pollutants in the South Asian power sector.
The study further recommends that India assume the role of a central hub in driving cross-border power trading to a greater height, at least at the initial stage, due to the relative size of the Indian power system, its high growth rate of demand, and location relative to other countries.
In August-September 2015, senior government officials from SASEC countries and one of the study's authors, Mr. Priyantha Wijayatunga, Principal Energy Specialist, South Asia Energy Division, ADB, participated in a study tour to Nord Pool Spot, Oslo to undergo an intensive familiarization program on power trading. Mr. Wijayatunga made a presentation on ADB Support for Regional Power Trade Development, which has included both soft and investment support in the SASEC countries over the years. The study tour was funded by ADB, under its SASEC Regional Power Trade technical assistance.
The ADB-funded SASEC Program supports boosting power trade in South Asia, the improvement of cross-border electricity transmission connectivity in the SASEC subregion, and capacity-building in the energy sector.
Related Links: